Welcome to our New Artistic Tuesday! It's a Linky Party! Artistic Tuesday is now a place where each one of you can SHINE!
Link up your Artistic posts, be it recipes, crafts, activities, shops, advice, inspiration, etc and next week, the post with the most visits/clicks will be our Featured Artistic post!
Posts do NOT have to be "crafty". The only requirements is that you used your brain to create it, and that it is family friendly! We love fun discussions or step by step "how to" posts!
They will be featured in next week's article, as well as Pinned on my pinterest boards, and clipped in my Clipix boards! And they will also be shared on our Facebook page and Twitter!
FEATURED POSTS!
This week's Featured Post; the post with the most views is….
Runner up:
If you were our featured posts this week, Grab our special "FEATURED" Button below and display it proudly on your site, letting your fans know you were a featured post!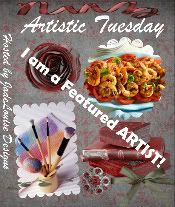 How to Party:
*Grab our 1st Artistic Tuesday Button and let your friends and readers know you are participating in our Weekly Event! Encourage them to visit, read the posts, and click on yours! (remember the post with the most views will be our featured post next week!)
* Artistic Tuesday will open Monday night at 7pm and be open until the following Sunday night at midnight.
* Link up Anything, as long as you think it is Artistic, creative and Fun!. it does NOT have to be a craft, although we love those too! You can share food, crafts, activities, shops, advice, inspiration, Fun discussion topics, and much much more ! Anything that used your brain to write and is Family Friendly!
* Visit others who are linking up their own Artistic posts! Without Visiting each other, a winner cannot be selected!
*Encourage your Readers to visit and browse through the fun and "artistic" posts! You need people to click on your post for a chance to be the featured post; so the more people that stop by and read, the better your chances!
* Please follow JadeLouise Designs on any of the following methods: Networked blogs, or email subscription (that fun envelope button near the top of the blog), Google+ , twitter, or like our Facebook page.
* Enjoy the Party !!! I can't wait to see what you all have come up with!